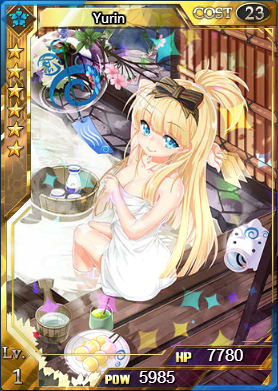 Star Level: ☆☆☆☆☆☆
Rarity: Super Rare+
Energy Cost: 23
HP: 7073 / 7780 (Flash)
Power: 5441 / 5985 (Flash)
Max Limit Break: 4
Spell: Water/Warm - Power increases by 200%
College: Godef
Illustrator: Sir Mumu
Intro: Yurin are able to change water temperature naturally. Her best friend Hayal both study in the Godef College. They can make hot spring by their special abilities.
Obtain: Point Draw (Flash), Super Draw during Hot Spring Festival event.
Ultimate Form
Level: 60 / 60 (Flash) / 100 / 100 (Flash)
HP: 20699 / 22769 / 35589 / 39148
Power: 15922 / 17514 / 27376 / 30114
Ad blocker interference detected!
Wikia is a free-to-use site that makes money from advertising. We have a modified experience for viewers using ad blockers

Wikia is not accessible if you've made further modifications. Remove the custom ad blocker rule(s) and the page will load as expected.