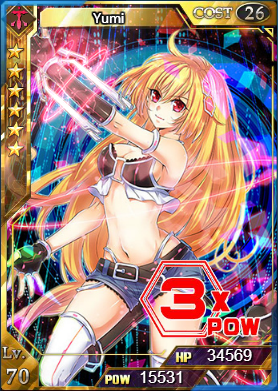 Star Level: ☆☆☆☆☆☆
Rarity: Super Rare+
Energy Cost: 26
HP: 10554 / 11609 (Flash)
Power: 4741 / 5215 (Flash)
Max Limit Break: 4
Spell: Strength/Astro Blast - Power increases by 200%
College: Dragonale College
Illustrator: Babal
Intro: As an important member of Discipline Picket, Yumi is admired a lot by the other members because of her boldness and carefulness. She may become angry as soon as someone approaches her younger sister Ayami.
Obtain: Point Draw (Flash), Super Draw during the New Year Carnival event.
Ultimate Form
Level: 60 / 60 (Flash) / 100 / 100 (Flash)
HP: ?? / ?? / 44533 / ??
Power: ?? / ?? / 20007 / ??
Ad blocker interference detected!
Wikia is a free-to-use site that makes money from advertising. We have a modified experience for viewers using ad blockers

Wikia is not accessible if you've made further modifications. Remove the custom ad blocker rule(s) and the page will load as expected.