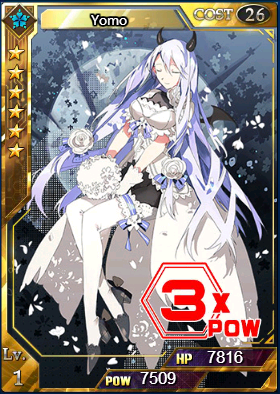 Star Level: ☆☆☆☆☆☆
Rarity: Super Rare+
Energy Cost: 26
HP: 7816 / 8598 (Flash)
Power: 7509 / 8260 (Flash)
Max Limit Break: 4
Spell: Talent: Enshrine - Restores 100% of card's HP when the card's level cannot go up anymore.
College: Godef College
Illustrator: STAR MAGE
Intro: Yomo only remembered that she was about to give the chocolate she made to the boy she loved after she was infected by an explosion of X substances. That's why she became excited on Valentine's Day.
Obtain: Event Ranking Reward for the Valentine's Day event.
Ultimate Form
Level: 60 / 60 (Flash) / 100 / 100 (Flash)
HP: 20444 / 22488 / 32976 / 36274
Power: 19643 / 21607 / 31682 / 34850
Ad blocker interference detected!
Wikia is a free-to-use site that makes money from advertising. We have a modified experience for viewers using ad blockers

Wikia is not accessible if you've made further modifications. Remove the custom ad blocker rule(s) and the page will load as expected.