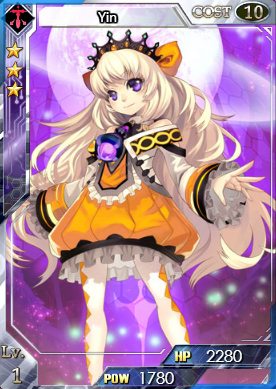 Star Level:  ☆☆☆
Rarity:  Rare
Energy Cost: 10
HP: Base - 2280
Power: Base - 1780
Max Limit Break: 3
Spell: Ninjitsu: Whirl Slice - With more cards of [Skyrage College] in the group, Power increases by a larger margin.
College: Dragonale College
Intro: Yin is a noble princess of a powerful tribe, and her family is one of the 12 Consortiums, so she is enthusiastic. Nevertheless, she is glad to be an assistant.
Ultimate Form
Level: 30 / 60
HP: 4460 / 
Power: 3460 / 
Other
The same character can be chosen to appear on the home screen and give in-game tips (in the form of Frost-Yin). However, unlike the protagonists, her card is not given automatically.
Yin's outfit and colour palette resembles that of Korean Vocaloid SeeU.
Ad blocker interference detected!
Wikia is a free-to-use site that makes money from advertising. We have a modified experience for viewers using ad blockers

Wikia is not accessible if you've made further modifications. Remove the custom ad blocker rule(s) and the page will load as expected.