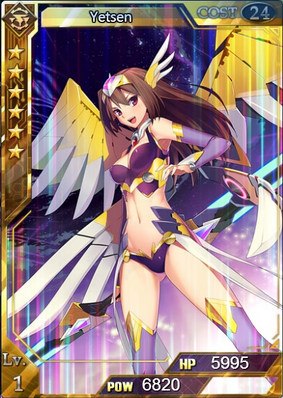 Star Level: ☆☆☆☆☆☆
Rarity: Super Rare+
Energy Cost: 24 
HP: Base - 5450 / (Flash) 5995
Power: Base - 6200 / (Flash) 6820
Spell: #Befall - Restores more HP in the later round. 
College: Skyrage 
Illustrator: Chingo Muyi
Intro: Yetsen has a set of special flying equipment. Her weapon is made from inactive X substances and alloy and therefore extremely powerful. Her armor and weapon are so costly that few students can afford.
Obtain: Super Draw, Point Draw during 'Hot Girls Squad' Event.
Ultimate Form
Level: (Flash) 60/ (Flash) 100
HP: (Flash) 12100 / (Flash) 29150
Power: (Flash) 13750 / (Flash) 26400
Ad blocker interference detected!
Wikia is a free-to-use site that makes money from advertising. We have a modified experience for viewers using ad blockers

Wikia is not accessible if you've made further modifications. Remove the custom ad blocker rule(s) and the page will load as expected.