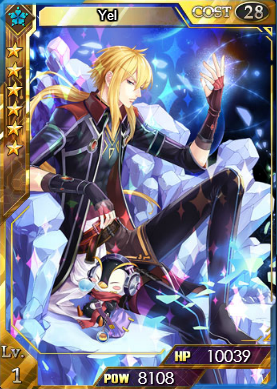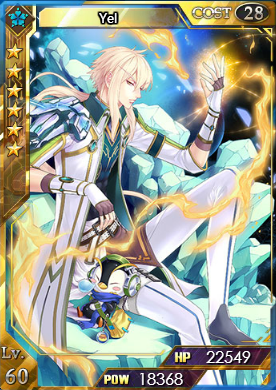 Star Level: ☆☆☆☆☆☆
Rarity:  Super Rare+
Energy Cost: 28
HP: Base - 9129 / 10042 (Flash)
Power: Base - 7371 / 8108 (Flash)
Spell: Shadow/Crashing - Increases Power by 200%. 
College: Skyrage College
Illustrator: Catree
Intro: Yel came from [an]other galaxy. His planet successfully resisted the invasion of X army, but he was dying in a battle. When he woke up after his spaceship exploded in a space leap, he found his soul residing inside a penguin named 'Dingdong' in Aglaea. Only when feeling the threat of X substances can his own body be summoned.
Obtain: Wish Draw from November 1st 2014 - November 15th 2014
Ultimate Form
Level: 60 / 100 / 60 (Flash) / 100 (Flash)
HP: 22549 / 35114 / 24804 / 38625
Power: 18368 / 29685 / 20205 / 32654
Ad blocker interference detected!
Wikia is a free-to-use site that makes money from advertising. We have a modified experience for viewers using ad blockers

Wikia is not accessible if you've made further modifications. Remove the custom ad blocker rule(s) and the page will load as expected.