Star Level: ☆☆☆☆
Rarity: Rare+
Energy Cost: 10 
HP: Base -2820
Power: Base -2210
Max Limit Break: 4
Spell: Shot: Headshot - Power increases by 50%. 
College: Dragonale College 
Illustrator: Catree
Intro: Yegn is a slowpoke. He excels at swordplay, shooting, and cooking. He is ready to shoulder responsibility and pretty tough. He seems unapproachable, but he is always glad to straighten out the mess.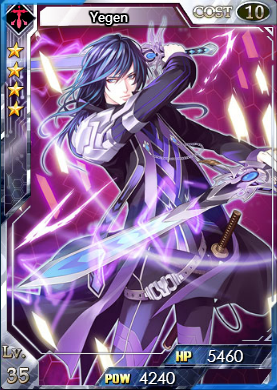 Obtain: Coupon Draw, Berserk Infector drop.
Ultimate Form
Level: 35 / 55 
HP: 5460
Power: 4240
Other
The same character can be chosen to appear on the home screen and give in-game tips (in the form of Perfect-Yegen). However, unlike the protagonists, his card is not given automatically.
Ad blocker interference detected!
Wikia is a free-to-use site that makes money from advertising. We have a modified experience for viewers using ad blockers

Wikia is not accessible if you've made further modifications. Remove the custom ad blocker rule(s) and the page will load as expected.