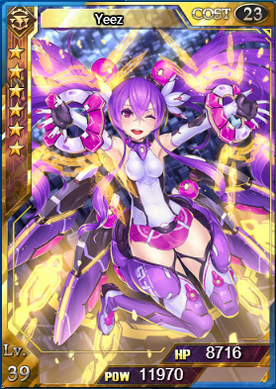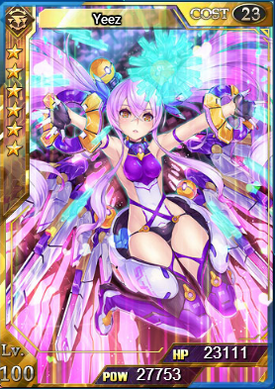 Star Level: ☆☆☆☆☆☆
Rarity: Super Rare+
Energy Cost: 23
HP: Base - 7073
Power: Base - 5441
Max Level: 100
Spell: Power increases by 200%.
College: Skyrage College
Illustrator: Nidy-2D
Intro: Yeez is a cute and lively girl who is able to search her surroundings, remove X substances and interrupt communication signals using magnetic energy. A904's reports show that Yeez has a 98% chance to remove inactive X substance in the experiments she joined.
Obtain: Prepayment rewards (June 15 - July 15 2014)
Ultimate Form
Level: 60 / 60 (Flash) / 100 / 100 (Flash)
HP: _ / _ (Flash) / 21010 / 23111 (Flash)
Power: _ / _ (Flash) / 25230 / 27753 (Flash)
Ad blocker interference detected!
Wikia is a free-to-use site that makes money from advertising. We have a modified experience for viewers using ad blockers

Wikia is not accessible if you've made further modifications. Remove the custom ad blocker rule(s) and the page will load as expected.