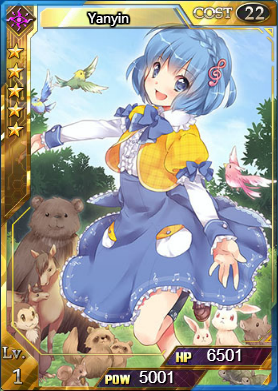 Star Level:  ☆☆☆☆☆
Rarity:  Super Rare
Energy Cost: 22 
HP: Base - 6501
Power: Base - 5001
Max Limit Break: 4 
Spell: Talent: Command - With more cards in battle, Power increases by a larger margin. 
College: Infector
Illustrator: Konichi (Japan)
Intro: When Yanyin was still a baby, she fell in a forest near the lake of Benefaction and was brought up by the animals over there. She was later sent to the Starsea College by the man who found her. She is able to communicate with different creatures by brain waves.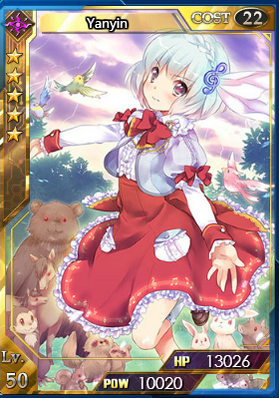 Obtain: Defeat her during Revival of Stars event.
Ultimate Form:
Level: 50 / 90
HP: 13026 / 20904
Power: 10020 / 16080
Ad blocker interference detected!
Wikia is a free-to-use site that makes money from advertising. We have a modified experience for viewers using ad blockers

Wikia is not accessible if you've made further modifications. Remove the custom ad blocker rule(s) and the page will load as expected.