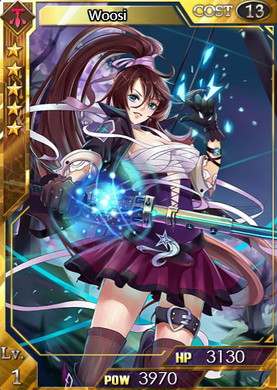 Star-level: ☆☆☆☆☆
Rarity:  
Energy Cost: 13
Base HP: 3130
Base Power: 3970
Spell: With more cards of [Skyrage College] in the group, Power increases by a larger margin.
College: Dragonale College
Illustrator: Woodsnake
Intro:  Woosi suffered a light railway accident when she was taking combat training. So she has to use a walking stick to walk. For her, the walking stick has become a nice weapon.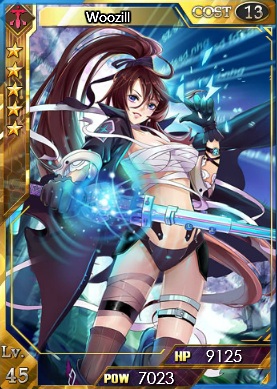 Obtain:
Coupon Draw, Super Draw, Greater Draw
Max HP: 9125
Max Power: 7023
Other
Star Era renamed her from Woosi to Woozill to avoid confusion with the other Woosi (Event). There are also two Arons (him and him) which Star Era has done nothing about).