Star-level: ☆☆☆☆☆
Rarity:  Super Rare
Energy Cost: 21
HP: Base - 6284
Power: Base - 4834
Max Limit Break: 4
Spell: Shadow/Dragon Hiding - Power increases by a larger margin in the later round.
College: Godef College
Illustrator: Sir 47
Intro: As a "Potential Monster", she can absorb and use all energy emitted by the changing substances, and cause unexpected damage. She can also transfer the harmless energy of X Infectors into her own power.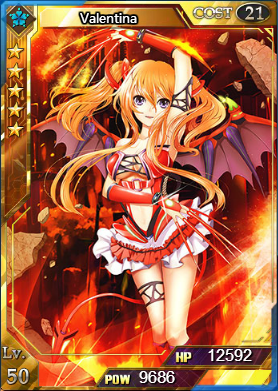 Obtain: Defeat her during the Dark Lair event.
Ultimate Form
Level: 50 / 90
HP: 12592 / 20207
Power: 9686 / 15544
Ad blocker interference detected!
Wikia is a free-to-use site that makes money from advertising. We have a modified experience for viewers using ad blockers

Wikia is not accessible if you've made further modifications. Remove the custom ad blocker rule(s) and the page will load as expected.