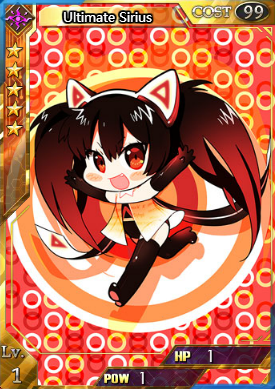 Star-level: ☆☆☆☆☆
Rarity:  Super Rare
Energy Cost: 99 
Power: Base - 1
HP: Base - 1
Spell: Null 
College: Infector 
Illustrator: Catfish
Intro: The No.3 product of the failed Sirius genetic optimization plan can provide a large number of EXP when used to enhance another card.
Obtain: Ultimate Sirius' Infector drops, event ranking prizes, World Boss boxes, Daily Vigor system (day 4), Daily Sign-in, arena ranking awards.
Ad blocker interference detected!
Wikia is a free-to-use site that makes money from advertising. We have a modified experience for viewers using ad blockers

Wikia is not accessible if you've made further modifications. Remove the custom ad blocker rule(s) and the page will load as expected.