Star Level: ☆☆☆☆
Rarity: Rare +
Energy Cost: 13
HP: Base - 3680
Power: Base - 2360
Max Limit Break: 3
Spell: #Defensive Magnet - Restores 200% of the card's HP.
College: Skyrage College
Illustrator: Chingo Muyi
Intro: Tuye was born on the artificial planet which is the base of clones. Not long after she was rescued by the Anti-experiment Union, she had begun to study in the Dragonale College. But people found there were inactive X substanses inside her body. Now she is one of the top students of the Skyrage College.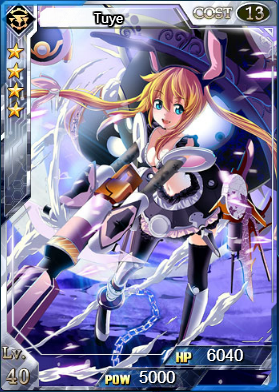 Obtain: Coupon Draw, Super Draw, Greater Draw, Berserk Infector drop.
Ultimate Form
Level: 40 / 70
HP: 6040 / 11500
Power: 5000 / 9200
Ad blocker interference detected!
Wikia is a free-to-use site that makes money from advertising. We have a modified experience for viewers using ad blockers

Wikia is not accessible if you've made further modifications. Remove the custom ad blocker rule(s) and the page will load as expected.