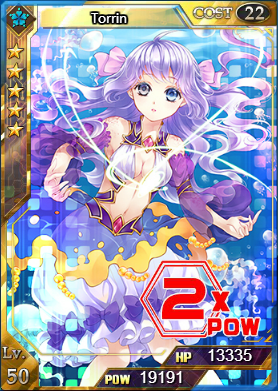 Star Level:  ☆☆☆☆☆
Rarity:  Super Rare
Energy Cost: 22
HP: Base - 5126 / 5639 (Flash)
Power: Base - 7377 / 8115 (Flash)
Max Limit Break: 4
Spell: Wind/Silence - Increases Power by 100% when the card's level cannot go up anymore
College: Godef College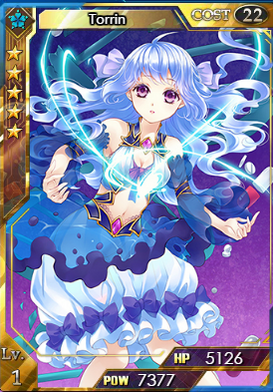 Illustrator: ARIA
Intro: There was once a great burst of X substances on the deck where Torrin lived. She has been frightened and never talked since then. Her family send her to study at Starsea College, hoping that she would overcome the fear and talk again.
Obtain: Super Draw, Point Draw, and Greater Draw during the 'Mysterious Girl' event. (April 16 - April 30 2015)
Ultimate Form
Level: 50 / 50 (Flash) / 90 / 90 (Flash)
HP: 12123 / 13335 / 21578 / 23736
Power: 17446 / 19191 / 31051 / 34156
Ad blocker interference detected!
Wikia is a free-to-use site that makes money from advertising. We have a modified experience for viewers using ad blockers

Wikia is not accessible if you've made further modifications. Remove the custom ad blocker rule(s) and the page will load as expected.