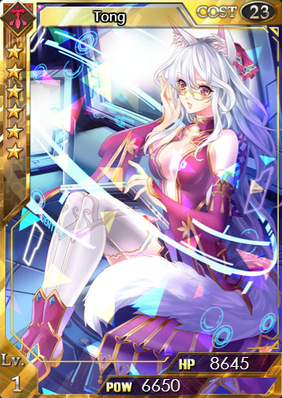 Star Level:  ☆☆☆☆☆☆
Rarity:  Super Rare+
Energy Cost: 23 
HP: Base - 7859 / 8645 (Flash)
Pow: Base - 6045 / 6650 (Flash)
Max Limit Break: 4
Spell: Duty: Attainable - Power increases by 200% 
College: Dragonale College
Illustrator: Catree
Intro: The ancestor of Tong replicated some features of X Infectors to avoid being attacked by them. But Tong was regarded as an X Infector due to the features when she tried to flee. She had to hide the features and resided in the body of a white fox in Aglaea, and made friends with the Penguin "Dingdong".
Obtain: Point Draw (Flash), Super Draw, Coupon Draw, Greater Draw during the Revival of Stars event.
Ultimate Form
Level: 60 / 100 / 60 (Flash) / 100 (Flash)
HP:  19417 / 30237 / 21359 / 33261
Power: 14936 / 23259 / 16430 / 25585
Ad blocker interference detected!
Wikia is a free-to-use site that makes money from advertising. We have a modified experience for viewers using ad blockers

Wikia is not accessible if you've made further modifications. Remove the custom ad blocker rule(s) and the page will load as expected.