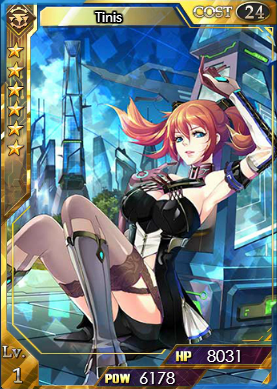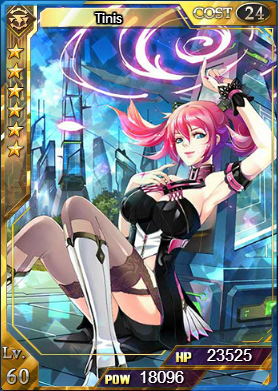 Star Level: ☆☆☆☆☆☆
Rarity: Super Rare+
Energy Cost: 24
HP: Base - 7301 / 8533 (Flash)
Power: Base - 5616 / 6178 (Flash)
Max Limit Break: 4
Spell: #Stardust Perish - Restores 200% of Card's HP.
College: Skyrage
Illustrator: Chingo Muyi
Intro: Tinis entered the Godef College at first, but she was ordinary among all the students and led an unhappy life there. Later she accidentally discovered her ability to control inactive X substances, and then she applied for transferring to the Skyrage College.
Obtain: Event Points ranking reward during the Starsea Disciple Session event.
Ultimate Form
Level: 60 / 60 (Flash) / 100 / 100 (Flash)
HP:  21386 / 23525 / 35395 / 38935
Power: 16451 / 18096 / 27227 / 29950
Other
Not to be confused with Tini.
Ad blocker interference detected!
Wikia is a free-to-use site that makes money from advertising. We have a modified experience for viewers using ad blockers

Wikia is not accessible if you've made further modifications. Remove the custom ad blocker rule(s) and the page will load as expected.