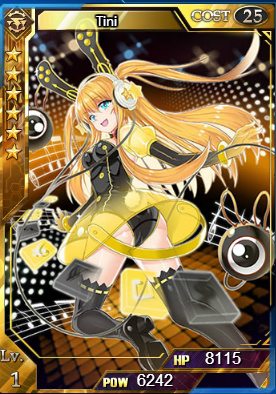 Star Level: ☆☆☆☆☆☆
Rarity: Super Rare+
Energy Cost: 25
HP: Base - 8115 / 8927 (Flash)
Power: Base - 6242 / 6866 (Flash)
Max Limit Break: 4
Spell: #Active Infection - Restores 200% of the card's HP.
College: Skyrage College
Illustrator: Sir Mumumu
Intro: Tini and the infector Domi studied musical performance together before. Tini was depressed after Domi was infected. Now she has revived gradually.
Obtain: Wish Draw between 1st December 2014 - 15th December 2014
Ultimate Form
Level: 60 / 60 (Flash) / 100 / 100 (Flash)
HP: 22095 / 24305 / 35664 / 39230
Power: 16996 / 18696 / 26445 / 30177
Other
Not to be confused with Tinis.
Ad blocker interference detected!
Wikia is a free-to-use site that makes money from advertising. We have a modified experience for viewers using ad blockers

Wikia is not accessible if you've made further modifications. Remove the custom ad blocker rule(s) and the page will load as expected.