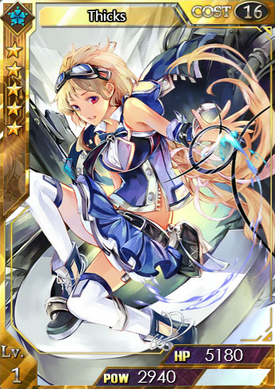 Star-level: ☆☆☆☆☆
Rarity:  Super Rare
Energy Cost: 16 
HP: Base - 5180
Power: Base - 2940
Max Limit Break: 6
Spell: Water/Shape of Water - When the opponent has less HP, restores more HP. 
College: Skyrage 
Illustrator: Deta
Intro: The name of Thicks came from the sorting number of an experiment. Being a case of experimental result for soulcontroller, she is undectable from common devices. That's why people thought she was missing during a task. In fact, she returned to the Godef College safely after carrying out a confidential sneaking task.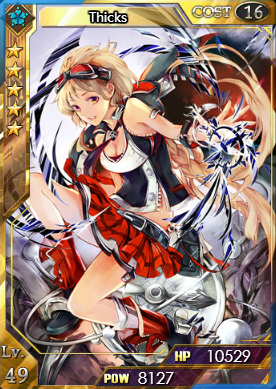 Obtain: Coupon Draw, Greater Draw, Point Draw. Defeat her during the Time Has Reversed event.
Ultimate Form
Level: 38 / 90
HP: __ / __
Pow: __ / __
Ad blocker interference detected!
Wikia is a free-to-use site that makes money from advertising. We have a modified experience for viewers using ad blockers

Wikia is not accessible if you've made further modifications. Remove the custom ad blocker rule(s) and the page will load as expected.