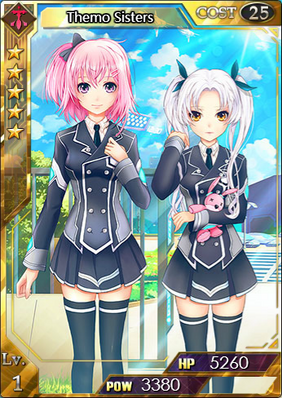 Star-level: ☆☆☆☆☆
Rarity:  Super Rare
Energy Cost: 25 
HP: Base - 5260 / (Flash) 5786
Pow: Base - 3380 / (Flash) 3718
Spell: Pray: Spirit Healing - Restores 100% of card's HP. 
College: Dragonale 
Illustrator: Sir 47
Intro: The girls from Themo families are all cyborgs fostered from some original genes. Their appearance and character will be different if other genes are added during the foster process. Actually the two sisters who have transferred to the Starsea College recently have a younger sister fostered at the same period. And they have many sisters fostered in different periods.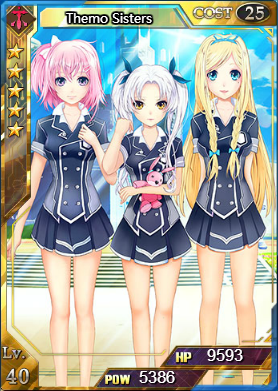 Obtain: Point Draw (Flash), Greater Draw, Super Draw, Coupon Draw during Hot Girls Squad Event.
Ultimate Form
Level: 40 / 40 (Flash) - 90 / 90 (Flash)
HP: 9593 / 10552 - _____ / _____
Pow: 5386 / 5925 - _____ / _____
Ad blocker interference detected!
Wikia is a free-to-use site that makes money from advertising. We have a modified experience for viewers using ad blockers

Wikia is not accessible if you've made further modifications. Remove the custom ad blocker rule(s) and the page will load as expected.