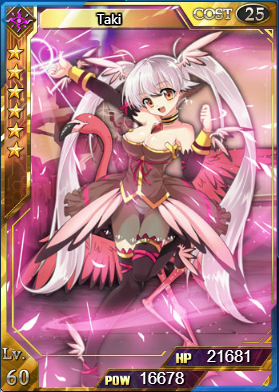 Star Level:  ☆☆☆☆☆☆
Rarity:  Super Rare+
Energy Cost: 25
HP: Base - 8115
Power: Base - 6242
Max Limit Break: 4
Spell: Increases Power by 100%. 
College: Infector
Illustrator: 
Intro: There is an impressive one among all the terrible Infectors, whose name is Taki when she was a human being. She was a popular star at that time who often went around with the spaceship and performed everywhere for the warriors in the frontline. Unluckily she was attacked and became an Infector.
Obtain: Prepayment Rewards (September 6 - September 15 2014)
Ultimate Form
Level: 60 / 90 / 60 (Flash) / 90 (Flash)
HP: 21681 / 35536 / __ / __
Power: 16678 / 27335 / __ / __
Ad blocker interference detected!
Wikia is a free-to-use site that makes money from advertising. We have a modified experience for viewers using ad blockers

Wikia is not accessible if you've made further modifications. Remove the custom ad blocker rule(s) and the page will load as expected.