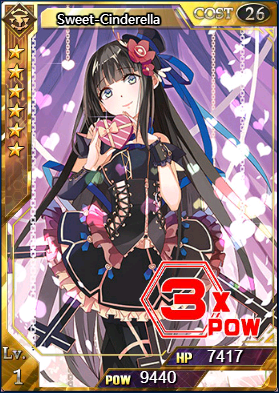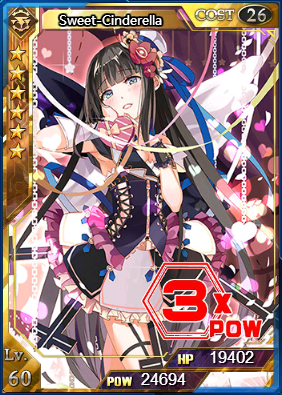 Star Level: ☆☆☆☆☆☆
Rarity: Super Rare+
Energy Cost: 26
HP: 6743 / 7417 (Flash)
Power: 8582 / 9440 (Flash)
Max Limit Break: 4
Spell: #Search - Power increases by 50%.
College: Skyrage College
Illustrator: Sherry
Intro: Though many boys have been admiring Cinderella since she became a famous singer, she doesn't want to get close to any of them. As Valentine's Day approaches, she becomes more and more upset.
Obtain: Super Draw, Point Draw (Flash) during the Valentine's Day event.
Ultimate Form
Level: 60 / 60 (Flash) / 100 / 100 (Flash)
HP: 17638 / 19402 / 28450 / 31295
Power: 22449 / 24694 / 36208 / 39829
Other
Not to be confused with 5-Star Cinderella from a previous event.
Ad blocker interference detected!
Wikia is a free-to-use site that makes money from advertising. We have a modified experience for viewers using ad blockers

Wikia is not accessible if you've made further modifications. Remove the custom ad blocker rule(s) and the page will load as expected.