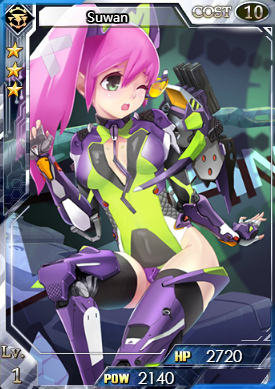 Star Level:  ☆☆☆
Rarity:  Rare
Energy Cost: 10
HP: Base - 2720
Power: Base - 2140
Max Limit Breaks: 4
Spell: #Instable Bomb - As the card's level goes up, Power increases by a larger margin
College: Skyrage College
Illustrator: X2R
Intro: Suwan is so timid that she would cry whenever there is danger. She oftens says "I'm scared" and "I want to go home", which can demoralize teammates a lot. It is really a pity since she is actually pretty strong.
Obtain: Coupon Draw, Super Draw, Greater Draw, Berserk Infector drops.
Ultimate Form:
Level: 25 / 60
HP: 4790 /
Power: 3630 /
Ad blocker interference detected!
Wikia is a free-to-use site that makes money from advertising. We have a modified experience for viewers using ad blockers

Wikia is not accessible if you've made further modifications. Remove the custom ad blocker rule(s) and the page will load as expected.