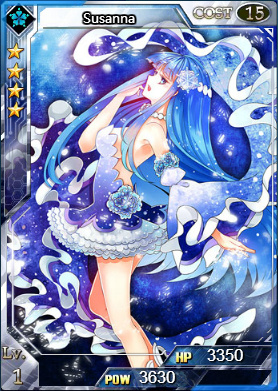 Star Level: ☆☆☆☆
Rarity: Rare+
Energy Cost: 15
HP: Base - 3350
Power: Base - 3630
Max Limit Break: 4
Spell: Shadow/Space Fluctuation - Increases Power by 100% when fighting against an [Infector].
College: Godef College
Illustrator: vetina
Intro: Susanna is able to freeze the infected when using high-entropy stuff to prevent their movement, but she is not able to finish the process fast. If her target got berserk before the process finishes, it would be very dangerous.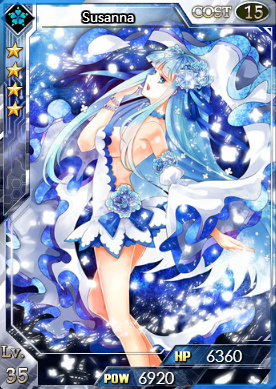 Obtain: Coupon Draw, Super Draw, Greater Draw, Berserk Infector drop.
Ultimate Form:
Level: 35 / 70
HP: 6360 / ___
Power: 6920 / ___
Other
Not to be confused with Susan.