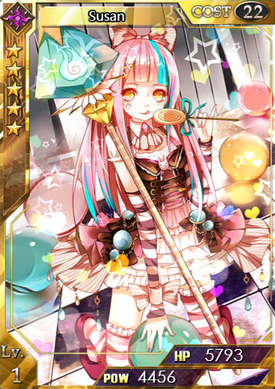 Star Level:  ☆☆☆☆☆
Rarity:  Super Rare
Energy Cost: 22 
HP: Base - 5266 / 5793 (Flash)
Power: Base - 4051 / 4456 (Flash)
Max Limit Break: 4
Spell: Talent: Sweet-like - When the opponent has less HP, restores more HP. 
College: Infector
Illustrator: FlowerSpring
Intro: Susan was deceived and infected by infectors for she loves candies so much. Now the candies in her hand are all beautiful infected substances. If you take anything from her, you would die soon.
Obtain: Point Draw (Flash), Super Draw for Halloween Carnival event.
Ultimate Form
Level: 50 / 90 / 50 (Flash) / 90 (Flash)
HP: _____ / 26234 / 15116 / 28857 (Flash)
Power: _____ / 20180 / 11628 / 22198 (Flash)
Other
Ad blocker interference detected!
Wikia is a free-to-use site that makes money from advertising. We have a modified experience for viewers using ad blockers

Wikia is not accessible if you've made further modifications. Remove the custom ad blocker rule(s) and the page will load as expected.