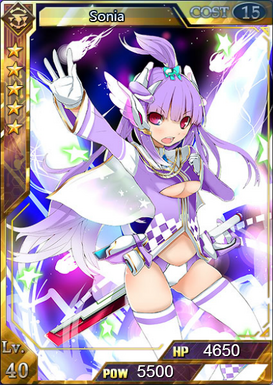 Star-level: ☆☆☆☆☆
Rarity: Super Rare
Energy Cost: 15 
HP: Base - 1950
Power: Base - 3440
Max Limit Break: 4
Spell: #Flash Raid - With more cards of [Skyrage College], Power increases by a larger margin.  
College: Skyrage College 
Illustrator: Monochrosys (Japan)
Intro: Sonia is the cheerleader of the most popular cheering squad of the Skyrage College. She needs to spend much time in machine manipulation and schoolwork, but she has been working hard in the cheering squad, so she is firmly trusted by teammates.
Obtain: Daily Sign-In reward (August 2014)
Ultimate Form
Level: 40 / 90
HP: 4650 / 14700
Power: 5500 / 13200
Ad blocker interference detected!
Wikia is a free-to-use site that makes money from advertising. We have a modified experience for viewers using ad blockers

Wikia is not accessible if you've made further modifications. Remove the custom ad blocker rule(s) and the page will load as expected.