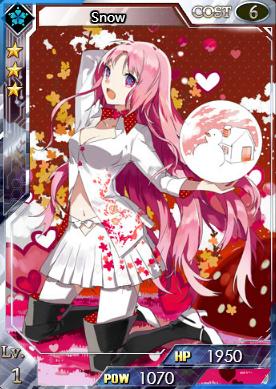 Star Level:  ☆ ☆ ☆
Rarity:  Rare
Energy Cost: 6
HP: Base - 1950 / (Flash) 2145
Power: Base - 1070 / (Flash) 1177
Max Limit Break: 4
Spell: Shadow/Magic Interception - Possibly restores 10 Energy when winning a battle
College: Godef College
Illustrator: STAR MAGE
Intro: Snow excels at sensing the surroundings and what is happening, so she can be a great detective. She is also crazy about performing divination using crystal balls, so people think she is able to foresee the future.
Obtain: Coupon Draw, Greater Draw, Super Draw, Berserk Infector drops, Wish Draw (Flash only)
Ultimate Form
Level: 28 / ___ / 28 (Flash) / ___
HP: ___ / ___ / 4235 / ___
Power: ___ / ___ / 2024 / ____
Ad blocker interference detected!
Wikia is a free-to-use site that makes money from advertising. We have a modified experience for viewers using ad blockers

Wikia is not accessible if you've made further modifications. Remove the custom ad blocker rule(s) and the page will load as expected.