Star Level: ☆☆☆☆☆☆
Rarity: Super Rare+
Energy Cost: 25 
HP: Base - 6200 / 6820 (Flash)
Power: Base - 5800 / 6380 (Flash)
Spell: #Frontline Assault - Increases power by 100% when the card's level cannot go up anymore
College: Skyrage College 
Illustrator: spirtie
Intro: If hot Siupol invited you to go swimming, would you decline? You better think over because she is bad tempered and she would release electric energy anytime anywhere once she got angry.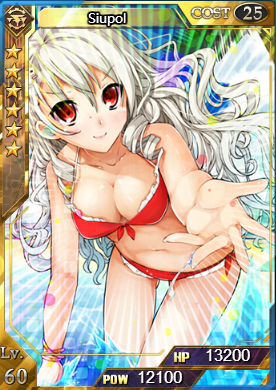 Obtain: Point draw during Bikini Girls event.
Ultimate Form
Level: 60 / 60 (Flash) / 100 / 100 (Flash)
HP: _ / 13200 (Flash) / 22425 / _ (Flash)
Power: _ / 12100 (Flash) / 19625 / _ (Flash)
Ad blocker interference detected!
Wikia is a free-to-use site that makes money from advertising. We have a modified experience for viewers using ad blockers

Wikia is not accessible if you've made further modifications. Remove the custom ad blocker rule(s) and the page will load as expected.