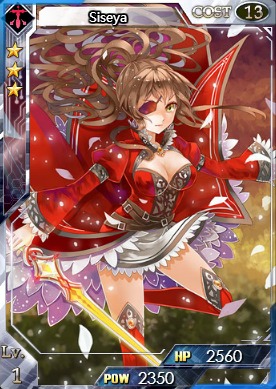 Star Level: ☆☆☆
Rarity: Rare
Energy Cost: 13 
HP: Base - 2560
Power: Base - 2350
Max Limit Break: 3
Spell: #Wing: Two-fisted Slap - When the player has less than 50% HP remaining, Power increases by 50%. 
College: Dragonale College 
Illustrator: vetina
Intro: Dandiacal Siseya is influential student because of her skillful swordplay, but she is so defiant that she cannot perfectly wield stardust.
Obtain: Coupon Draw, Super Draw, Greater Draw, Normal Infector drop (rare), Berserk Infector drop.
Ultimate Form
Level: 30 / 60
HP: 4690 / ___
Power: 5120 / ___