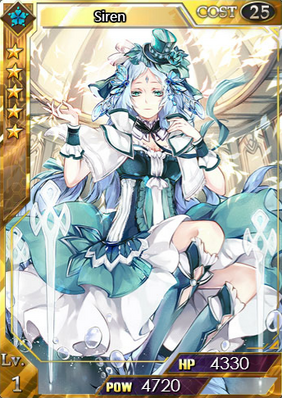 Star Level: ☆☆☆☆☆
Rarity: Super Rare
Energy Cost: 25 
HP: Base - 4330
Power: Base - 4720
Spell: Light/Light Energy Focus - When the player has less than 30% HP remaining, Power increases by 70%.
College: Godef College
Illustrator: Deta
Intro: Siren's genes have been filtered and optimized. She is a "perfect" new-style human being. She is able to use audio frequency to disturb the mechanism of enemy's brain.
Obtain: Card draw
Ultimate Form
Level: 50 / 90
HP: 7990 / _____
Power: 11350 / _____