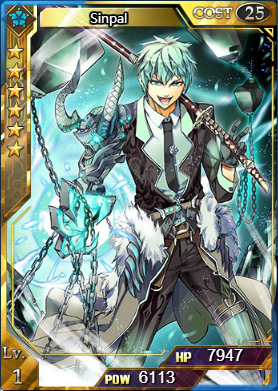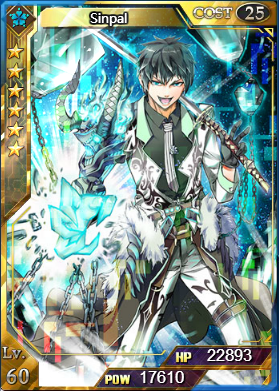 Star Level: ☆☆☆☆☆☆
Rarity: Super Rare+
Energy Cost: 25
HP: Base - 7947 / 8742 (Flash)
Power: Base - 6113 / 6724 (Flash)
Spell: Increases Power by 100% when launching the first attack.
College: Godef College
Illustrator: Babu
Intro: In order to acquire greater power, Sinpal has tried many ways. He has even bought the enhanced genes of the aliens from the blackmarket and injected them into his own body. Surprisingly, the inactive X substances were activated again, and revised the genes of Sinpal, making him a killing machine.
Obtain: Super Draw, Point Draw (Flash) during Dark Lair event.
Ultimate Form
Level: 60 / 100 / 60 (Flash) / 100 (Flash)
HP: 20812 / 32783 / 22893 / 36061
Power: 18112 / 25218 / 19923 / 27740
Ad blocker interference detected!
Wikia is a free-to-use site that makes money from advertising. We have a modified experience for viewers using ad blockers

Wikia is not accessible if you've made further modifications. Remove the custom ad blocker rule(s) and the page will load as expected.