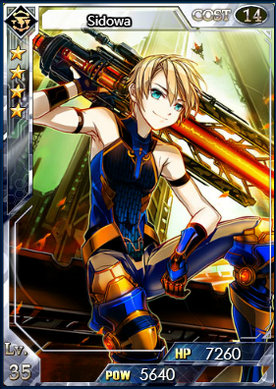 Star-level: ☆ ☆ ☆ ☆ 
Rarity:  Rare+
Energy Cost: 14 
Power: Base - 2940
HP: Base - 3750
Spell: #Nursing - restores 100% of the card's HP 
College: Skyrage College 
Illustrator: darkpaint
Intro: Sidowa's weapon is made from the special materials which are usually used in producing mobile machines. His weapon can perfectly mix with stardust. Plus his superior swordplay and combat skills, Sidowa is an absolutely awesome fighter.
Obtain: Coupon Draw, Berserk Infector drop
Ultimate Form
Level: 35
HP: 7260
Power: 5640
Ad blocker interference detected!
Wikia is a free-to-use site that makes money from advertising. We have a modified experience for viewers using ad blockers

Wikia is not accessible if you've made further modifications. Remove the custom ad blocker rule(s) and the page will load as expected.