Star Level: ☆☆☆☆
Rarity:  Rare+
Energy Cost: 15 
HP: 3650 / 4015 (Flash)
Power: 2800 / 3080 (Flash)
Max Limit Break:
Spell: Wind/Warm Current - Restores 50% of the card's HP when the card's level cannot go up anymore. 
College: Godef College 
Illustrator: jellymart
Intro: Through the study and practice in the Godef College, Shspacecraftey has dramatically improved his ability of electronic calculation. When facing the infected fleets, he is able to change commands from afar but he still needs more training to change commands faster.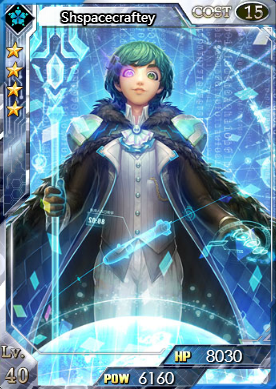 Obtain: Defeat him during Final Test event (July 1 - July 15 2014), Wish Draw.
Ultimate Form:
Level: 40 / 40 (Flash) / 70 / 70 (Flash)
HP: _ / 8030 (Flash) / _ / _ (Flash)
Power: _ / 6160 (Flash) / _ / _ (Flash)
Ad blocker interference detected!
Wikia is a free-to-use site that makes money from advertising. We have a modified experience for viewers using ad blockers

Wikia is not accessible if you've made further modifications. Remove the custom ad blocker rule(s) and the page will load as expected.