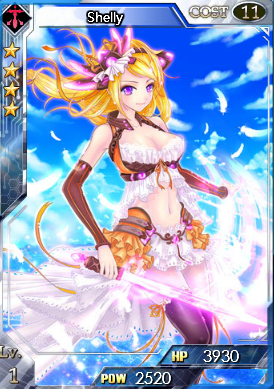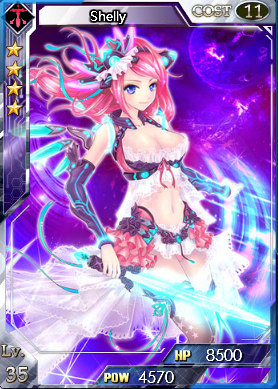 Star Level: ☆☆☆☆
Rarity: Rare+
Energy Cost: 11
HP: Base - 3930
Power: Base - 2520
Spell: If the player is member of [Dragonale Collage], restore 100% of the card's HP
College: Dragonale 
Illustrator: Anan
Intro: Shelly always keeps alert. She is ready to battle at any time. Maybe it is because she was nearly infected by X substances when she was very young. Just don't be afraid if you see her holding her sword tightly because she only hates X substances.
Obtain: Coupon Draw, Berserk Infector Drop.
Ultimate Form
Level: 35
HP: 8500
Power: 4570
Ad blocker interference detected!
Wikia is a free-to-use site that makes money from advertising. We have a modified experience for viewers using ad blockers

Wikia is not accessible if you've made further modifications. Remove the custom ad blocker rule(s) and the page will load as expected.