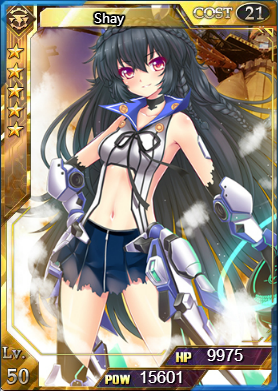 Star Level: ☆☆☆☆☆
Rarity: Super Rare
Energy Cost: 21
HP: 4341
Power: 6789
Max Limit Break: 4 
Spell: - Wind/Tornado - with more cards in battle, restores more HP.
College: Skyrage College
Illustrator: Wolfdragon
Intro: Damn it is Shay's pet phrase. She has no interest in anything else except for the courses of tactics.
Obtain: Reward for every 15,000 event points earned during the New Year Carnival event.
Ultimate Form
Level: 50 / 90
HP: 9975 / 18140
Power: 15601 / 28373
Ad blocker interference detected!
Wikia is a free-to-use site that makes money from advertising. We have a modified experience for viewers using ad blockers

Wikia is not accessible if you've made further modifications. Remove the custom ad blocker rule(s) and the page will load as expected.