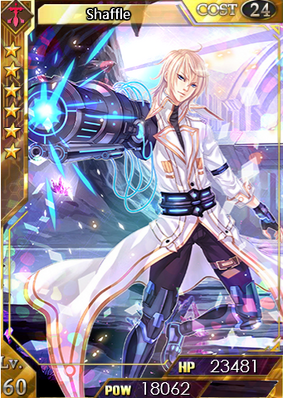 Star Level: 
 ☆☆☆☆☆☆
Rarity: Super Rare+
Energy Cost: 24 
HP: 8160 / 8976 (Flash)
Power: 6277 / 6905 (Flash)
Max Limit Break: 4 
Spell: #Intensify: Confrontation - As the card's level goes up, Power increases by a larger margin 
College: Dragonale College
Illustrator: Adam.J
Intro: This young man from City H didn't become a zombie because he did not drink the polluted water. In order to look for a good girlfriend, he injected enhancing drug into his body. Now he has two golden eyes and therefore he can resist the zombies face to face.
Obtain: Point Draw (Flash), Super Draw during the Revival of Stars event.
Ultimate Form
Level: 60 / 60 (Flash) / 100 / 100 (Flash)
HP: 21346 / 23481 / 34490 / 37939
Power: 16420 / 18062 / 26531 / 29184
Other
Not to be confused with Shafel.
Ad blocker interference detected!
Wikia is a free-to-use site that makes money from advertising. We have a modified experience for viewers using ad blockers

Wikia is not accessible if you've made further modifications. Remove the custom ad blocker rule(s) and the page will load as expected.