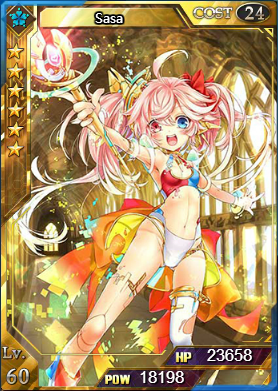 Star Level:  ☆☆☆☆☆☆
Rarity:  Super Rare+
Energy Cost: 24 
HP: 7747 / 8522 (Flash)
Power: 5959 / 6555 (Flash)
Max Limit Break: 4 
Spell: Wind/Shadow Change - Restores 100% of card's HP when the card's level cannot go up anymore. 
College: Godef College
Illustrator: king
Intro: Sasa has over two special abilities, but she is too young to stabilize the abilities. A cute wand is for her to use her abilities stably.
Obtain: Event Points ranking reward during the Campus Carnival event.
Ultimate Form
Level: 60 / 60 (Flash) / 100 / 100 (Flash)
HP: 21507 / 23658 / 35582 / 39140
Power: 16544 / 18198 / 27371 / 30108