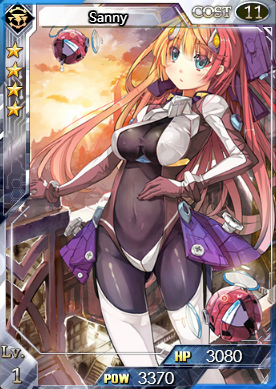 Star Level: ☆☆☆☆
Rarity: Rare+
Energy Cost: 11 
HP: Base - 3080
Pow: Base - 3370
Max Limit Break: 4
Spell: #Ultimate Cannon - If the player is a member of [Skyrage College], Power increases by 100%. 
College: Skyrage College 
Illustrator: spirtie
Intro: Sanny is not only a student but also a battle pilot. She is still very young, but she has been skillful in driving battleships, aeroboats and mobile machines. It's said she is a fighting clone and she has been carrying out an undercover mission assigned by the Army in the college, but various files show she is merely a common new-style human being.
Obtain: Coupon Draw, Super Draw, Greater Draw, Normal Infector drop (rare), Berserk Infector drop.
Ultimate Form
Level: 35 / 70
HP: 6250 / ??
Pow: 6820 / ??
Other
Not to be confused with Santty.
Ad blocker interference detected!
Wikia is a free-to-use site that makes money from advertising. We have a modified experience for viewers using ad blockers

Wikia is not accessible if you've made further modifications. Remove the custom ad blocker rule(s) and the page will load as expected.