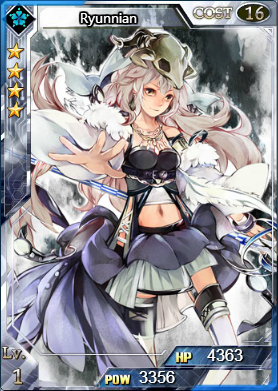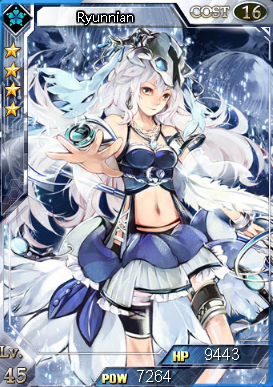 Star Level: ☆☆☆☆
Rarity: Rare+
Energy Cost: 16
HP: Base - 4363
Power: Base - 3356
Max Limit Break: 3
Spell: When the player has higher maximum Energy, Power increases by a larger margin.
College: Godef
Illustrator: Deta
Intro: There are a lot of nobles in the Godef College, but Ryunnian is the daughter of a shipman from an interstellar resource survey vessel. She is able to control the magnetic poles to crash enemy ship.
Obtain: Defeat her during Dark Lair event.
Ultimate Form
Level: 40 / 70
HP: 8685 / 14021
Power: 6681 / 10785
Ad blocker interference detected!
Wikia is a free-to-use site that makes money from advertising. We have a modified experience for viewers using ad blockers

Wikia is not accessible if you've made further modifications. Remove the custom ad blocker rule(s) and the page will load as expected.