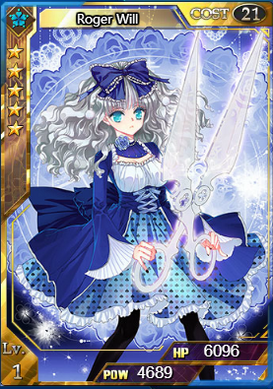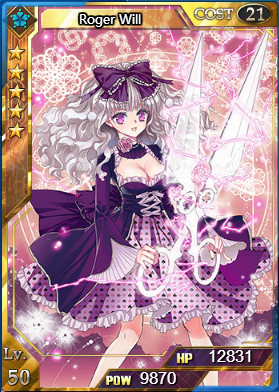 Star Level:  ☆☆☆☆☆
Rarity:  Super Rare
Energy Cost: 21
HP: Base - 7073
Power: Base - 5441
Max Level:  90
Spell: As card's level goes up power increases by a larger margin.
College: Godef College
Illustrator: Bamboo Glass
Intro: Roger Will doesn't come from the aggressive Dragonale College. His [sic] eye-catching scissors are only to hide her ability to disturb the opponent's behaviour by controlling neuron microcurrent.
Obtain: By opening lesser and medium packs. Sign-in reward for the month of October 2014.
Ultimate Form
Level: 50 / 90
HP: 12831 / 21399
Power: 9870 / 16461
Ad blocker interference detected!
Wikia is a free-to-use site that makes money from advertising. We have a modified experience for viewers using ad blockers

Wikia is not accessible if you've made further modifications. Remove the custom ad blocker rule(s) and the page will load as expected.