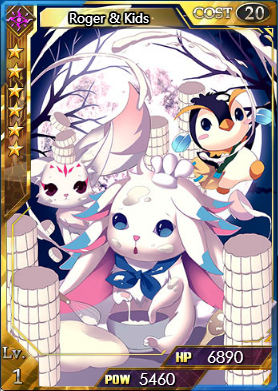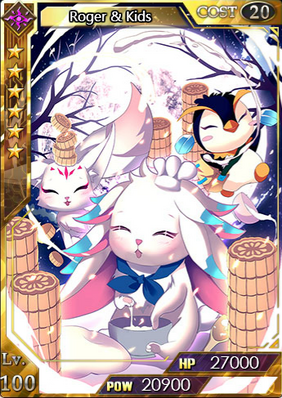 Star Level: ☆☆☆☆☆☆
Rarity: Super Rare +
Energy Cost: 20
HP: Base - 6890
Power: Base - 5460
Spell: When opponent has more HP, Power increases by a larger margin.
College: Infector
Illustrator: rhea
Intro: Roger and his mysterious kids went out in the night with full moon. Do you think they were admiring the moon in the beautiful night? No, don't believe what you saw. Just leave them alone. They would become ferocious and tough for food.
Obtain: Auto-enhancing card found by exploring 'West Den 2' area during 'Moonlight Ritual' event. Limited time only (available from 17 September 2014 - 25 September 2014 during the event).
Ultimate Form
Level: 100
HP: 27000
Power: 20900
Other
Not to be confused with Rabbit Roger.
Ad blocker interference detected!
Wikia is a free-to-use site that makes money from advertising. We have a modified experience for viewers using ad blockers

Wikia is not accessible if you've made further modifications. Remove the custom ad blocker rule(s) and the page will load as expected.