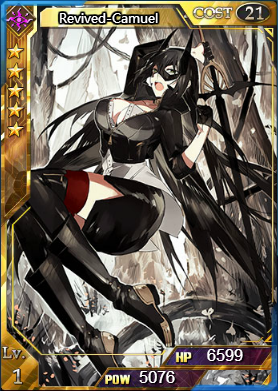 Star Level: ☆☆☆☆☆
Rarity: Super Rare
Energy Cost: 21
HP: Base - 6599
Power: Base - 5076
Max Limit Break: 4
Spell: Talent:Tease - When the player has higher HP, Power increases by a larger margin.
College: Infector
Illustrator: STAR MAGE
Intro: 
As as [Has
as
twice] experimental creature, Camuel escape from the cruel fate even though she entered the Starsea College. The super warrior Camuel may become the most powerful attacker after one experiment after another.
Obtain: Opening lesser and medium packs from fighting World Boss.
Ultimate Form
Level: 50 / 90
HP: 13530 / 22117
Power: 10408 / 17013
Other
Not to be confused with her original 4-Star version, Camuel.
She also appears in Chapter 3 of the storyline.
Ad blocker interference detected!
Wikia is a free-to-use site that makes money from advertising. We have a modified experience for viewers using ad blockers

Wikia is not accessible if you've made further modifications. Remove the custom ad blocker rule(s) and the page will load as expected.