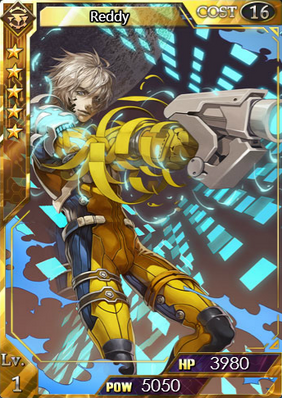 Star-level: ☆☆☆☆☆
Rarity: Super Rare
Energy Cost: 16
Power: Base - 5050
HP: Base - 3980
Spell: #Transfer of Energy - Restores 50% of the card's HP.
College: Skyrage
Illustrator: Asia Minor Dancer
Intro: Reddy has been indulging in remodeling machines like crazy. Many people think he is a stubborn madman. He seems indifferent to most things, but he knows many secrets.
Obtain: Coupon Draw, Greater Draw, Berserk Infector drop.
Ultimate Form
Level: 40 / 90
HP: 7070 / 16500
Pow: 9920 / 17100
Ad blocker interference detected!
Wikia is a free-to-use site that makes money from advertising. We have a modified experience for viewers using ad blockers

Wikia is not accessible if you've made further modifications. Remove the custom ad blocker rule(s) and the page will load as expected.