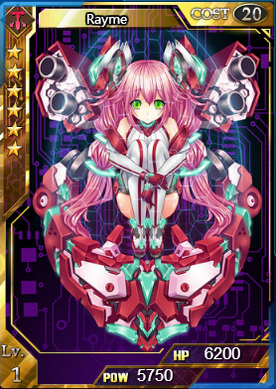 Star Level:  ☆☆☆☆☆☆
Rarity:  Super Rare+
Energy Cost: 20
HP: Base - 6200 / 6820 (Flash)
Power: Base - 5750 / 6325 (Flash)
Max Limit Break: 4
Spell: Flame: Semilunar Spirit - When the player has less than 50% HP remaining, restores 200% of the card's HP.
College: Dragonale College
Illustrator: LittleStone
Intro: Rayme was originally a student of the Skyrage College. She was shot down when protecting others during a mission and the Skyrage College thought she had died by mistake. However, she was soon rescued by the Dragonale College but she lost her memory. Since then, she has become a student of the Dragonale College.
Obtain: Wish Draw (September 16 - September 30 2014)
Ultimate Form
Level: 60 / 60 (Flash) / 100 / 100 (Flash)
HP: 13100 / 14410 / 26500 / 29150
Power: 11600 / 12760 / 24000 / 26400
Ad blocker interference detected!
Wikia is a free-to-use site that makes money from advertising. We have a modified experience for viewers using ad blockers

Wikia is not accessible if you've made further modifications. Remove the custom ad blocker rule(s) and the page will load as expected.