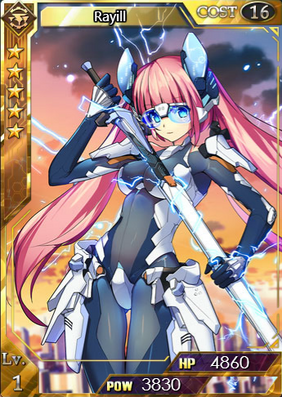 Star Level: ☆☆☆☆☆
Rarity:  Super Rare
Energy Cost: 16
HP: Base - 4860 
Power: Base - 3830 
Spell: #Exterminate - As the card's level goes up, Power increases by a large margin.
College: Skyrage
Illustrator: LifeFire
Intro: Rayill would rather prefer sword but not gun, So she has used X substances to improve her electromagnetic sword. She can be very agile once she takes off her armor.
Obtain: Super Draw, Greater Draw, Berserk Infectors, Draw by Coupons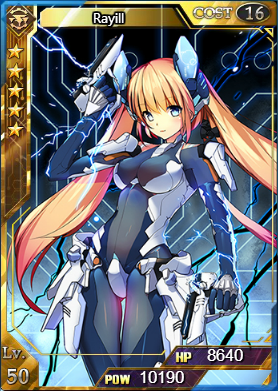 Ultimate Form
Level: 50 / 90
HP: 8640 / 17900
Pow: 10190 / 17300
Other
Not to be confused with Rayllian.
Ad blocker interference detected!
Wikia is a free-to-use site that makes money from advertising. We have a modified experience for viewers using ad blockers

Wikia is not accessible if you've made further modifications. Remove the custom ad blocker rule(s) and the page will load as expected.