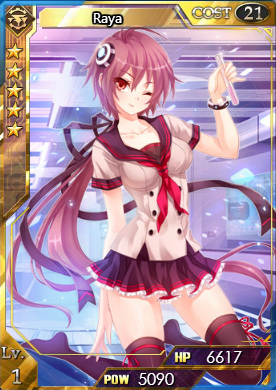 Star Level: ☆☆☆☆☆
Rarity: Super Rare
Energy Cost: 21
HP: Base - 6617
Power: Base - 5090
Max Limit Break: 4
Spell: . Power increases by a larger margin in the later rounds.
College: Skyrage College
Illustrator: Adam.J
Intro: Lively Raya devotes herself to adding all kinds of chemicals into the firing devices of machine after she entered the Skyrage College. Dont be shocked by any strange explosion made by her.
Obtain: Reward for every 15,000 event points earned during the "Time Has Reversed" event.
Ultimate Form
Level: 50 / 90
HP: 15166
Power: 11666
Ad blocker interference detected!
Wikia is a free-to-use site that makes money from advertising. We have a modified experience for viewers using ad blockers

Wikia is not accessible if you've made further modifications. Remove the custom ad blocker rule(s) and the page will load as expected.