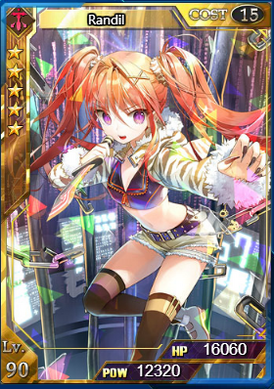 Star Level: ☆☆☆☆☆
Rarity: Super Rare
Energy Cost: 15
HP: Base - 2860 / _ (Flash)
Power: Base - 2290 / _ (Flash)
Max Level: 90
Spell: Power increases by 200%.
College: Dragonale College
Illustrator: SALT
Intro: The parents named the conjoined twins Randil and Sejna separately when they were born. They could not separate the body thoroughly so only the younger sister survived. When Randil was attacked by some extremely hazardous Infectors during a quest, cruel Sejna woke up for self rescue. Since then the two different personalities stayed inside the body.
Obtain: Prepayment rewards (June 15 - July 15 2014)
Ultimate Form
Level: 50 / 50 (Flash) / 90 / 90 (Flash)
HP: _ / _ (Flash) / 14600 / 16060 (Flash)
Power: _ / _ (Flash) / 11200 / 12320 (Flash)
Other
Not to be confused with Ranzil.
Ad blocker interference detected!
Wikia is a free-to-use site that makes money from advertising. We have a modified experience for viewers using ad blockers

Wikia is not accessible if you've made further modifications. Remove the custom ad blocker rule(s) and the page will load as expected.