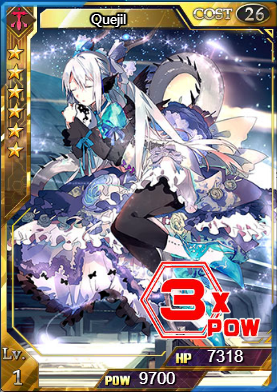 Star Level:  ☆☆☆☆☆☆
Rarity:  Super Rare+
Energy Cost: 26
HP: 6971 / 7668 (Flash)
Power: 10031 / 11034 (Flash)
Max Limit Break: 4 
Spell: Ancient Power - Power increases by 100%
College: Dragonale College
Illustrator: STAR MAGE
Intro: Quejil is a girl with a special power ability,which has something to do with an ancient creature. Different from other students who are studying fighting skills, Quejil came to the Starsea only to learn how to suppress her power.
Obtain: Wish Draw from January 16th - January 31st 2015.
Ultimate Form
Level: 60 / 60 (Flash) / 100 / 100 (Flash)
HP: 18135 / 19949 / 29108 / 33303
Power: 26096 / 28706 / 41886 / 44146
Ad blocker interference detected!
Wikia is a free-to-use site that makes money from advertising. We have a modified experience for viewers using ad blockers

Wikia is not accessible if you've made further modifications. Remove the custom ad blocker rule(s) and the page will load as expected.