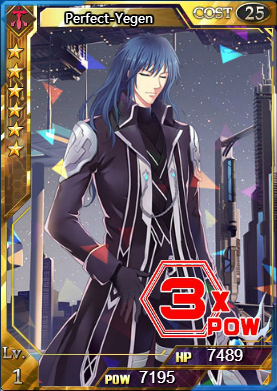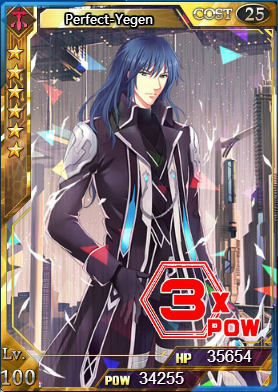 Star Level: ☆☆☆☆☆☆
Rarity: Super Rare+
Energy Cost: 25
HP: 6808 / 7489 (Flash)
Power: 6541 / 7195 (Flash)
Max Limit Break: 4
Spell: Train: Assault - As card's level goes up, Power increases by a larger margin.  
College: Dragonale College
Illustrator: SEAL+rhea+SIN
Intro: Yegen practices hard every day.Not only his spearplay and fencing has improved a lot ,but his cooking is also unparalleled.
Obtain: Event Points ranking reward during the New Year Dance event.
Ultimate Form
Level: 60 / 60 (Flash) / 90 / 90 (Flash)
HP: 19022 / 20924 / 32413 / 35654
Power: 18277 / 20105 / 31141 / 34255
Other
Not to be confused with the normal, 4-star Yegen.
Yegen can also be chosen as an "assistant" character who appears on the home screen to give in-game tips. However, unlike the protagonists, his card is not given automatically.