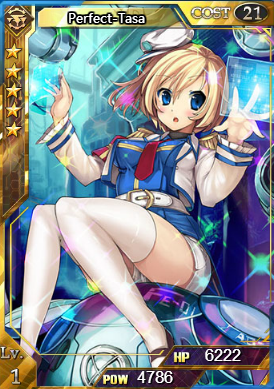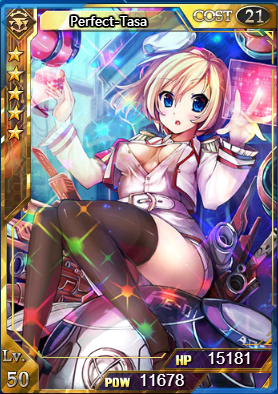 Star Level: ☆☆☆☆☆
Rarity: Super Rare
Energy Cost: 21 
HP: Base - 5656 / 6222 (Flash)
Power: Base - 4351 / 4786 (Flash)
Spell: When the opponent has more HP, Power increases by a larger margin. 
College: Skyrage College
Illustrator: spirtie
Intro: Tasa, a tehnical backbone of the campus guard monitor centre, is proficient at numerical control and network. But if she left her own monitor dispatcher station, she would easily break glasses, fell down or hit a pole. What a careless girl!
Obtain: Tournament Ranking rewards (November 30th - December 27th 2014)
Ultimate Form
Level: 50 / 50 (Flash) / 90 / 90 (Flash)
HP: 13801 / 15181 / 25380 /  27918
Power: 10616 / 11678 / 19523 / 21475
Ad blocker interference detected!
Wikia is a free-to-use site that makes money from advertising. We have a modified experience for viewers using ad blockers

Wikia is not accessible if you've made further modifications. Remove the custom ad blocker rule(s) and the page will load as expected.