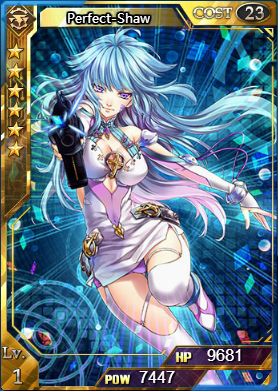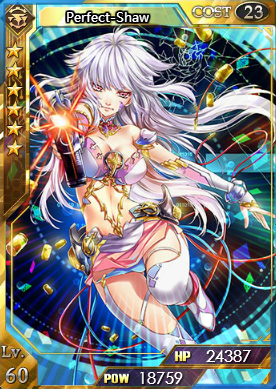 Star Level: ☆☆☆☆☆☆
Rarity: Super Rare+
Energy Cost: 23
HP: Base - 8801 / 9681
Power: Base - 6770 / 7447
Max Limit Break: 4
Spell: #Crackdown - With more cards in battle, Power increases by a larger margin.
College: Skyrage
Illustrator: king
Intro: Shaw, the campus security police, can capture the criminals efficiently because she has learned a lot from Detective Nancy who resides in the spacecraft. Maybe Nancy will become an authentic spacecraft security police before long.
Obtain: Super Draw, Flash (Point) Draw during the Starsea Disciple Session event.
Ultimate Form:
Level: 60 / 60 (Flash) / 100 / 100 (Flash)
HP: 22170 / 24387 / 35347 / 38882
Power: 17054 / 18759 / 27190 / 29909